Italian surgeon Sergio Canavero recently made headlines when he announced his plans to conduct the first ever human head transplant. As expected, Dr. Canavero's announcement caused a great deal of controversy among scientists, with many voicing concerns that the procedure is unethical due to its highly experimental nature and the potential for serious complications. In addition to becoming an outcast in the Italian medical community due to his radical thinking, Dr. Canavero was also terminated at the hospital in Turin where he had been working. Despite all this backlash from the scientific establishment, Dr. Canavero was still able to garner support from the Harbin Institute of Technology in China. It is here that he will attempt the unimaginable: surgically remove a person's head from their own body and attach it to a second "donor" body.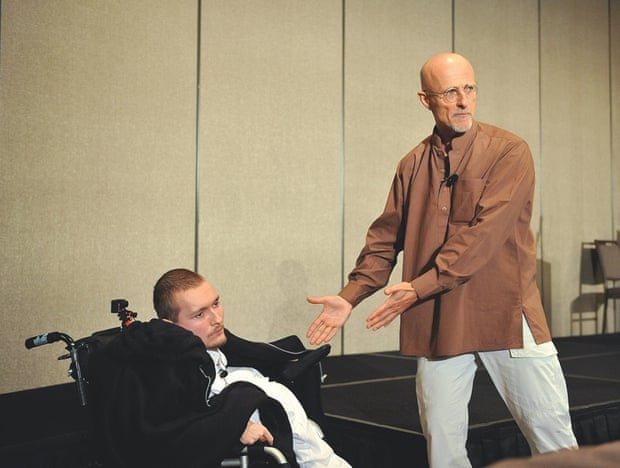 Valery Spiridonov, a 31 year old Russian artist, has been in a wheelchair his entire life. Muscular atrophy has left him paralyzed and desperate enough to volunteer for radical new medical treatments. When Spiridonov found information about Dr. Canavero's work on the internet, he contacted him and volunteered himself as the first ever human head transplant patient. In the summer of 2015, Canavero presented Mr. Spridonov to a group of American surgeons and confirmed that he would be the first experimental patient. Spiridonov's head will be removed from his own body and placed on a healthy donor body. This involves connecting the head-body arteries, throat and spine. The most important and daunting task of the procedure is the connection of nerve fibers from the head to the body. There are millions of nerve fibers which will need to be severed, and these fibers must be properly connected to the donor body in order for the transplant to be successful. The entire procedure will require 80 surgeons and take more than two days to complete.
On January 19th, 2016, an article in
New Scientist
reported an announcement from Dr. Canavero which stated that Korean sc
ientist

C-Yoon Kim

had successfully transplanted the head of a monkey and several mice. Although the seven scientific papers related to this development have not yet been released, this announcement coupled with optimistic statements from Dr. Canavero suggest that a human head transplant may be on the horizon. Only time wil
l tell as to whether such a feat can actually be accomplished with today's medical technology.
References:
The Guardian
New Scientist
Posted by: Bradley Sarasin (3) (Group 3)