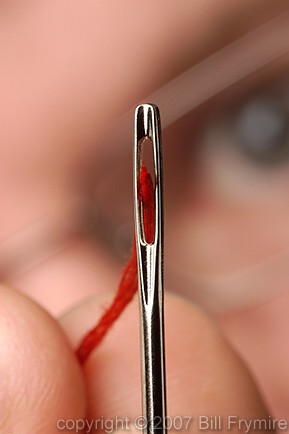 There's no doubt that humans are far more intelligent than chimps. It still remains a popular debate on whether or not we evolved from chimps. A fair amount of people fall on each side of this debate, but what is really the truth? Did we really evolve from these animals, or do we follow the ideas of creationism? Brian Thomas, a science writer at the Institute for Creation Research, is a young Earth creationist. He wrote the article, "
God's Threading Machines
." It starts off questioning why humans have finer precision when dealing with needles and threads, whereas chimps and apes cannot perform this task. He mentions how a factory loom knows how to perform such a task with precise motion, meaning the person who designed it should also have precise motion. He further compares this threading machine to RNA; ribosomes are the needle's eye as the strands are pulled through to construct a final product (protein). Thomas concludes that God is the ultimate Genius for the ability of humans to perform such tasks. However, I've always been a firm believer of evolution. While I understand the comparison he is making, I don't think it's valid to conclude that it was God's creation, something that is based solely off of someone's religious beliefs. Thomas actually received his bachelors degree in Biology, so I find it quite funny that he doesn't think there is enough information to support that evolution is indeed real!
Moreover, Jianzhi Zhang wrote an article, "
Evolution of the human ASPM gene, a major determinant of brain size
," that can be found at
https://www.ncbi.nlm.nih.gov/
, a trusted site that I'm sure we've all used some time in our life (especially you science majors!). In the article, he provides evidence that ASPM underwent evolution of its sequence that led to increased brain size. These mutations were only seen in the genomes of lineages that split from chimps and apes, leading to the first humans. The increase in brain size also roughly correlates with the development of speech/language, as well as many other advances in cognitive functions. With these advances in human abilities, it makes sense that we are far better problem solvers than any chimp, and we a owe a big thanks to evolution!
Article sources:
http://www.icr.org/article/9857
https://www.ncbi.nlm.nih.gov/pmc/articles/PMC1462882/
Image source:
http://www.billfrymire.com/gallery/precision-needle-thread.jpg.html
Posted by Natalie Nou (Week 6)