DNA contains all of the genetic material necessary for the expression of traits that involve development, reproduction, and function of the body. It consists of a double-stranded molecule held together by nitrogenous bases. And because it contains so much important information, it needs to be protected from damage. This is the main function of telomeres. Telomeres, as described
here
, are essentially protective caps that can be found on the ends of each DNA strand. They prevent fraying, and therefore loss of information, so that our cells can function at maximum capacity. Each time a cell undergoes mitosis, the telomeres on the end of its DNA shorten. Essentially, telomeres serve as a means of measuring one's biological age.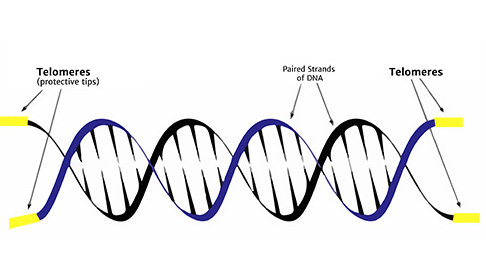 Source:

https://www.tasciences.com/what-is-a-telomere.html
In addition to mitosis, telomeres have been observed to shorten in response to chronic stress, obesity, lack of exercise, and poor diet. Now, research has uncovered a new correlation between children raised in single-parent homes and shortened telomere length (TL).
This paper
, published by the American Academy of Pediatrics, elaborates on these ideas and investigates juvenile TL as a response to father loss. Researchers found that association between TL and absence of a father was significant "across all types of loss, and by a child's sex, race/ethnicity, and age at exposure." Any type of father loss between birth and age 9 resulted in a 14% TL reduction. Divorce and incarceration resulted in 6% and 10% TL reductions respectively. Death was associated with the largest TL reduction at 16%.
These statistics are especially concerning due to the fact that shortened telomeres have been linked to a string of health complications; meaning children raised in single-parent households are more at risk than those in two-parent households. Based on previous research that investigated chronic stress and TL, this makes sense. While our cells are not aware of parental involvement, it is already known that children raised in single-parent homes are more likely to be exposed to financial, nutritional, emotional, sexual, and physical stressors; among others. Dealing with any of these for long periods of time does not go without effect; even on the cellular level. However, more basic biological research needs to be done before we can confidently conclude about this correlational relationship.
Posted by Meagan Gustafson (8)